Bogus Check Law
United States of America v. Christopher Ray Edwards
Cheyenne, Wyoming criminal defense lawyer represented Defendant charged with receiving ammunition while under a felony indictment.

Christopher Ray Edwards, age 37, of Rock Hill, South Carolina, was charged with being a felon in possession of ammunition, possession of firearm not registered in the National Firearms Registration and Transfer Record and receiving ammunition while under a fe... More...

$0 (03-30-2023 - WY)


United States of America v. Ze'Shawn Stanley Campbell
Los Angles, California criminal defense lawyer represented Defendant charged with fraud.

Ze'Shawn Stanley Campbell, 35, from Fontana, was accused of defrauding eight women - some of whom he developed romantic relationships with - and nine businesses and then laundering the proceeds.

Campbell pleaded guilty in October 2022 to one count of wire fraud and one count of money launde... More...

$0 (03-29-2023 - CA)


United States of America v. David Wayne Raddle
Tucson, Arizona criminal defense lawyer represented Defendant charged with possession with intent to distribute methamphetamine and felon in possession of a firearm.

On November 10, 2020, Pima County Sheriff's deputies stopped a vehicle driven by David Wayne Radde, age 60, of Tucson, for multiple traffic violations. A drug detection canine was called to the scene and alerted to the pres... More...

$0 (03-28-2023 - AZ)


United States of Solomon Ekunke Okpe
Phoenix, Arizona financial fraud scam criminal defense lawyer represent Defendant.

Between December 2011 and January 2017, Solomon Ekunke Okpe, 31, of Lagos, and his co-conspirators devised and executed business email compromise (BEC), work-from-home, check-cashing, romance, and credit card scams that targeted unsuspecting individuals, banks, and businesses in the United States and elsewh... More...

$0 (03-24-2023 - AZ)


Chad Lightfoot v. Gary Gilley, et al.
Shreveport, Louisiana Plaintiff representing himself without counsel sued Defendants on prisoner civil rights theories.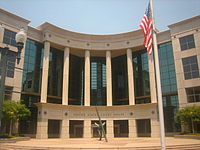 Lightfoot is a prisoner in the Franklin Parish Detention Center. He
filed this suit against several prison officials, alleging (among other thi... More... $0 (03-21-2023 - LA)


United States of America v. Michael T. Chock and Brigida Chock
Honolulu, Hawaii criminal defense lawyer representing Defendants charged with tax fraud.












Federal Courthouse - Honolulu, Hawaii



More... $0 (03-21-2023 - HI)



United States of America v. Chachui Chen and Wenyi Zheng

Salt Lake City, Utah criminal defense lawyer represented defendant charged with conspiracy to commit wire fraud.














Federal Courthouse - Salt Lake City, Utah



More... $0 (03-20-2023 - )



United States of America v. Diamante Williams

Chicago, Illinois criminal defense lawyer represented Defendant charged with theft of mail.
<













Federal Courthouse - Chicago, Illinois



More... $0 (03-16-2023 - IL)



State of Florida v. Sidney Holmes

Fort Lauderdale, Florida criminal defense lawyer represented Defendant charged with armed robbery.














Broward County Courthouse - Fort Lauderdale, Florida



More... $0 (03-15-2023 - FL)



United States of America v. Dennis Duffy, II

Burlington, Vermont criminal defense lawyer represented Defendant charged with loan fraud and money laundering.














Federal Courthouse - Burlington, Vermont



More... $0 (03-13-2023 - VT)



United States of America v. Christopher Ray Edwards

Cheyenne, Wyoming criminal defense lawyer represented Defendant charged with felony possession of ammunition.














Federal Courthouse - Cheyenne, Wyoming



More... $0 (03-10-2023 - WY)



United States of America v. Dakota Chase Buzzard

Tulsa, Oklahoma criminal defense lawyer represented Defendant charged with first-degree murder in Indian County, assault with intent to commit murder and firearm felonies.













Federal Courthouse - Tulsa, OklahomaMore... $0 (03-10-2023 - OK)


United States of America v. Stefan Gillier, a/k/a Stephan Gillier, a/k/a Stefan R.R. Gillier, a/k/a Roland Gillier, a/k/a Roland Van Gorp

New York City, New York criminal defense lawyers represented Defendant charged with engaging in a conspiracy to fraudulently obtain over six million dollars' worth of aircraft parts.



Federal Courthouse - New... More... $0 (03-09-2023 - NY)



United States of America v. Larry Householder, et al.

Cincinnati, Ohio criminal defense lawyer represented Defendant charged with participating in a racketeering conspiracy.














Federal Courthouse - Cincinnati, Ohio



More... $0 (03-09-2023 - OH)



United States of America v. Luis Enrique Rendon Cardenas

Miami, Florida criminal defense lawyer represented Defendant charged with conspiracy for his his role in conspiring with Peruvian-based call centers that defrauded Spanish-speaking United States residents by falsely threatening them with arrest, deportation, and other legal consequences. He is the eleventh defendant to be sentenced to prison in the scheme.

Luis Enrique Rendon Cardenas, 60... More...

$0 (03-08-2023 - FL)


United States of America v. Hatcher Ramon Day

Tulsa, Oklahoma criminal defense lawyer represented Defendant charged with distribution of fentanyl and felony possession of multiple firearms.













Federal Courthouse - Tulsa, Oklahoma



More... $0 (03-06-2023 - )



United States of America v. Zackey Rahimi

Dallas, Texas criminal defense lawyer represented Defendant charged with felony possession of a firearm.



Federal Courthouse - Dallas, Texas

More... $0 (03-02-2023 - TX)



United States of America v. Karzarta Piett

Columbus, Georgia criminal defense lawyer represented Defendant charged with a violent criminal history was convicted by a federal jury on charges related to armed methamphetamine trafficking.














Federal... More... $0 (02-24-2023 - GA)



United States of America v. Salvador Salas, Jr.

Casper, Wyomingcriminal defense lawyer represented Defendant charged with possession of child pornography.















Federal Courthouse - Casper, Wyoming



More... $0 (02-23-2023 - WY)



Daniel McDonald v. Southwest Auto Sales and Finance LLC, et al.

Phoenix, Arizona consumer law lawyer represented Plaintiff who sued Defendants on a Federal Odometer Act violation theory under 49 U.S.C. 32710














Federal Courthouse - Phoenix, Arizona



More... $1 (02-17-2023 - AZ)



State of Oregon v. Billy Lee Oatney, Jr.

Hillsboro, Oregon criminal defense lawyer represented Defendant charged with first-degree murder.














Washington County Courthouse - Hillsboro, Oregon



More... $0 (02-08-2023 - OR)



United States of America v. Wandale J. Fulton

Kansas City, Missouri criminal defense lawyer represented Defendant charged with arson and insurance fraud conspiracy and a separate bank fraud conspiracy, and for illegally possessing firearms.













More... $0 (02-07-2023 - MO)


United States of America v. Salvador Salas, Jr.

Cheyenne, Wyoming criminal defense lawyer represented Defendant charged with on one count of possession of child pornography and five counts of production of child pornography.














Federal Courthouse - Che... More... $0 (02-01-2023 - WY)



State of Kansas v. Floyd Scott Bledsoe

This is primarily a sufficiency of the evidence case. Defendant Floyd S. Bledsoe appeals his convictions for first-degree premeditated murder, aggravated kidnapping, and aggravated indecent liberties. K.S.A. 21-3401(a); K.S.A. 21-3421; K.S.A. 21-3504. Our jurisdiction is under K.S.A. 22-3601(b)(1) (an appeal of a conviction for an off-grid crime receives review by this court).

Bledsoe cla... More...

$0 (02-01-2023 - KS)


Tayleur Raye Pickup, et al. v. District Court of Nowata County, Oklahoma, et al.

Tulsa, Oklahoma civil rights lawyers represented Plaintiff who claimed that they were wrongfully charged and convict in Oklahoma state district court that did not have jurisdiction over their cases.


Plaintiff Chanda Lynelle Butcher is a member of the Cherokee Nation. On November 2, 2015, she was convicted of Obtaining Money by Bogus Check in Mayes County District Court for "events ... More...

$0 (01-31-2023 - OK)


Next Page