Ejectment Law
Aerotek, Inc. v. Johnson Group Staffing Company, Inc., Porter Scott, P.C., Real Party in Interest
California's Uniform Trade Secrets Act allows courts to award reasonable attorney
fees and costs to the "prevailing party" in certain cases involving bad faith claims. (Civ.
Code, § 3426.4.)1
The issue here concerns the ownership of fees awarded under this
statute. Is the prevailing litigant (here, The Johnson Group Staffing Company, Inc.) or
the prevailing litigant's attorney... More...

$0 (09-19-2020 - CA)


MICHAEL CHRISTMAN ET AL. v. CONDEVCO, INC. ET AL.
MoreLaw ReceptionistsVOIP Phone and Virtual Receptionist Services
Call 918-582-6422 Today



Appellants own 141.62 acres of land, including the oil, gas, and associated
mineral rights loca... More... $0 (05-24-2020 - OH)


Reza Veiseh v. Donald Stapp
This appeal addresses standing to bring a cause of action for trespass to realty.
Generally, the tort of trespass protects possessory interests and, therefore, a person in
actual possession of the land may sue for trespass. Ownership or recorded title to land is
not required. Some California decisions state the plaintiff's possession must be "lawful."
2.
This opinion addresses... More...

$0 (06-10-2019 - CA)


Lilli Shoen v. Juliet Zacarias



When a landowner grants someone permission to use her
land, she generally retains the right to revoke that license at any
time. (Emerson v. Bergin (1888) 76 Cal. ... More... $0 (04-08-2019 - CA)


DYCK-O'NEAL, INC. vs TERESA NORTON & SAMUEL NORTON



In 2006, the Nortons executed a promissory note and mortgage on their home in Hendry County, Florida, in favor of Bank of America, N.A. When the Nort... More... $0 (03-19-2019 - FL)


FAIRFAX PORTFOLIO, L.L.C., Appellant v. CAROJOTO, L.L.C., ROSANA PRIVITERA BIONDO, ANTHONY L. PRIVITERA II, and CARL PRIVITERA



Fairfax owned property in Wyandotte County, subject to debt evidenced by a promissory note (Note) that was secured by a mortgage on the real estate (M... More... $0 (03-05-2019 - KS)


E.V. v. Eugene H. Robinson, Jr.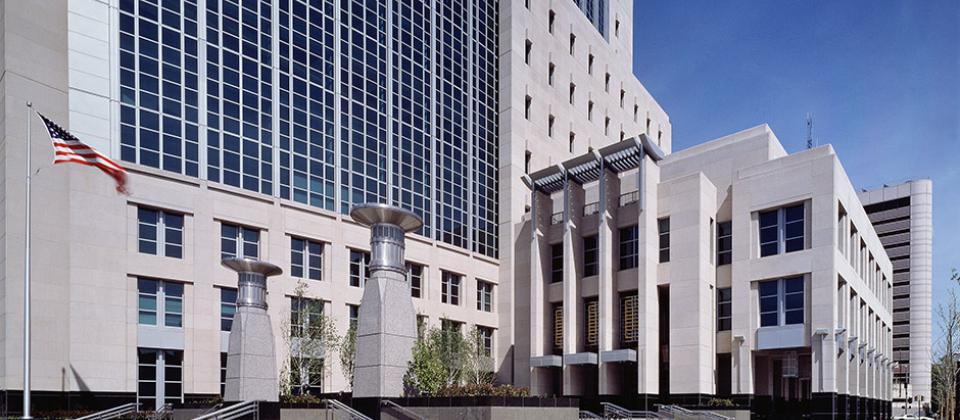 We must decide whether the doctrine of federal sovereign immunity bars this suit for injunctive relief against Lieutenant Colonel Eugene H. Robinson, Jr., ("Judge Robinson") in his official capacity as a military ju... More... $0 (10-19-2018 - CA)


Hong Sang Market, Inc. v. Vivien Peng
These appeals arise out of a commercial tenancy dispute. In one appeal, defendant
and cross-complainant Vivien Peng challenges a judgment awarding damages for backdue
rent to her former landlord, plaintiff and cross-defendant Hong Sang Market, Inc.
(Hong Sang). Peng argues that a judgment in a prior unlawful detainer action against her,
in which Hong Sang was awarded one month's ba... More...

$0 (02-14-2018 - CA)


Ray F. Kastle v. Salem Hospital
This appeal concerns the application of the statute
of limitations to a complaint for medical malpractice involving
newly added defendants. Plaintiff alleged that negligent
treatment of low sodium levels in his blood serum caused
him to develop a neurological disorder, central pontine
myelinolysis (CPM). Invoking ORCP 21 A(9),1 defendants
moved to dismiss the complaint as b... More...

$0 (03-15-2017 - OR)


William Michael Nicholson and Joan Nicholason v. Coeur D'Alene Placer Mining Corporation and IFG Timber, L.L.C.
EISMANN, Justice.
This is an appeal out of Shoshone County from a judgment: (a) denying recovery on an alleged oral promise to grant the Plaintiffs a right of first refusal with respect to a parcel of real property they were leasing, (b) denying recovery on an alleged oral promise to purchase the Plaintiffs' buildings that were located on that property, and (c) finding that the Plaintiffs were... More...

$0 (02-24-2017 - ID)


State of Vermont v. Atlantic Richfield Company, et al.
This interlocutory appeal calls upon us to decide whether V.S.A. § 462 creates an exemption from the general six-year limitation for the State of Vermont's claims against a host of defendants for generalized injury to state waters as a whole due to groundwater contamination from gasoline additives. On the basis of the statute of
limitations, the trial court dismissed the State's claims ins... More...

$0 (05-29-2016 - VT)


Indiana High School Athletic Association, Inc., and Hammond Gavit High School v. Nasir Cade, et al.
Both Hammond and Griffith are voluntary members of the IHSAA. On
Saturday, February 7, 2015, the Hammond varsity boys' basketball team played
the Griffith team at Griffith. A Hammond player fouled a Griffith player
during the game, which caused the Griffith player to slam into the padded wall
behind the basket and fall onto the floor.2 Thereafter, members of both teams
... More...

$0 (03-11-2016 - IN)


SHARRON JENKINS v. CHICAGO PACIFIC CORPORATION, et al
Sharron and Gerald Jenkins received, by quitclaim deed, property that had previously been used by the Chicago, Kansas and Nebraska Railway Company, the predecessor of Chicago Pacific Corporation, (Chicago Pacific) as a railroad track
running through the town of Holton. Use of the property as a railroad track has long since been abandoned. Gerald is now deceased and Sharron filed a quiet title... More...

$0 (02-10-2016 - KS)


Sky Harbor Air Service, Inc. v. Cheyenne Regional Airport Board, a Wyoming Corporation
In 2008, Sky Harbor initiated litigation against the Airport in the United States District Court for Wyoming, based on the Paint Shop lease. Sky Harbor Air Serv., Inc. v. Reams, 491 Fed. Appx. 875, 879 (10th Cir. 2012). Sky Harbor asserted claims for extortion, fraud, conspiracy, defamation, violation of Constitutional rights, breach of contract, and multiple other causes of action. Id. at 880. Th... More...

$0 (02-09-2016 - WY)


Wyo-Ben, Inc., a Corporation v. Boyd J. Van Fleet
The State of Wyoming issued a gentleman by the name of D.K. Jones a patent for the property involved in this case in 1955. A couple of decades passed before he and his wife (who was on the title by that time) entered into a mining lease which covered their property and some neighboring lands with Wyo-Ben on November 1, 1970. This conveyance is known as the Jones-Manning lease. [¶4] The lease al... More...

$0 (11-19-2015 - WY)


James LeBlanc, Christine LeBlanc Fortin, David LeBlanc and Herman LeBlanc v. Robert E. Snelgrove
This case encompasses two main related sets of disputes. One dispute arises from a landowner's replacement of his boathouse and construction of ancillary retaining walls that encroach onto his neighbors' property. This dispute includes claims for declaratory and injunctive relief, as well as damages on account of the landowner's alleged
trespass. The neighbors challenge the trial court's c... More...

$0 (10-25-2015 - VT)


JENNIFER PIKE v. DEUTSCHE BANK NATIONAL TRUST COMPANY, AS TRUSTEE
The petitioner, Jennifer Pike, appeals an order of the Superior Court (McNamara, J.) granting summary judgment to the respondent, Deutsche Bank National Trust Company, as Trustee (Trust), in her action to enjoin the foreclosure sale of real property located in New London. On appeal, the petitioner argues that the trial court erred when it determined that she lacked standing to challenge the assig... More...

$0 (07-15-2015 - )


Progressive Realty Assoc., L.P. v White
Order, Supreme Court, New York County (Joan M. Kenney, J.), entered November 6, 2014, which denied plaintiff's motion for summary judgement on its claims for an order of ejectment seeking to remove defendant from the subject premises and for dismissal of defendant's counterclaims, unanimously reversed, on the law, without costs, and the motion granted. The Clerk is directed to enter judgment accor... More...

$0 (07-07-2015 - )


Nunamta Aulukestal v. State of Alaska
Challenged in this case are land and water use permits allowing intensive
mineral exploration on State land. The main question we address is whether the
Department of Natural Resources (DNR) had to give public notice before issuing the
permits. Because the Alaska Constitution requires public notice when interests in land
are transferred, the answer to this question depends on wheth... More...

$0 (05-29-2015 - AK)


Lilli Shoen v. Juliet Zacarias
A trial court has the power to issue an equitable easement authorizing a trespasser to continue her trespass in exchange for paying damages, but only if, among other things, the hardship on the trespasser in ceasing the trespass is "greatly disproportionate" to the hardship on the land's owner in losing use of the trespassed-upon portion of her land. (E.g., Tashakori v. Lakis (2011) 196 Cal.... More...

$0 (05-22-2015 - CA)


Drake Kennedy v. Brian Kennedy
Defendants, Brian Kennedy and, as to Skyline Outdoor Media LLC only, David Seyde, appeal from a May 13, 2014 order in favor of plaintiff, Drake Kennedy.1 The May 13, 2014 order denied defendants' motion to stay dissolution of a number of corporations and limited liability companies and appoint appraisers to permit a buyout to occur. (Corp. Code,2 §§ 2000, 17707.03.) Defendants contend the tria... More...

$0 (04-20-2015 - CA)


Giovanni Elezi and Napolis of Tulsa, Inc. v. Parker Strip Center, LLC and Steve D. Eaton
Tulsa, OK - Giovanni Elezi and Napolis of Tulsa, Inc. sued Parker Strip Center, LLC and Steve D. Eaton on breach of contract theories claiming:

I. Plaintiff Giovanni Elezi is an individual who resides in Tulsa County, State of Oklahoma.
2. Plaintiff Napoli's of Tulsa, Inc. is an Oklahoma corporation, and its principle place of
business is in Tulsa County, State of Oklahoma.
... More...

$0 (04-16-2015 - OK)


State of Oregon v. Gregory James Tegland
Defendant appeals a judgment of conviction for one
count of possession of methamphetamine, ORS 475.894,
and one count of erecting a structure on a public right of
way, in violation of Portland City Code (PCC) 14A.50.050.
He assigns error to the trial court's denial of his motion to
suppress evidence found after a police officer lifted a tarp to
defendant's makeshift she... More...

$0 (02-11-2015 - OR)


5F, LLC v. Robert Dresing
5F, LLC, challenges the order granting final summary judgment in favor of Robert Dresing, Sarah F. Dresing, and the Northern Trust Company, trustee for the Michael W. O'Shaughnessy Trust (collectively referred to as the Dresings). The lower
- 2 -
court found that the Dresings, as riparian land owners, have a common law right to construct a pier on submerged land owned by 5F which abuts the... More...

$0 (07-16-2014 - FL)


1300 N. Curson Investors, LLC v. Cecilia Drumea
This appeal concerns the amount of rent that may be charged under the City of Los Angeles Rent Stabilization Ordinance (L.A. Mun. Code, ch. XV, art. 1, § 151.00 et seq.; hereafter the Ordinance) to a former resident manager upon termination of managerial services. The former resident manager was already a tenant in the unit before being appointed resident manager and continued to occupy the unit ... More...

$0 (04-04-2014 - CA)


Next Page