Please E-mail suggested additions, comments and/or corrections to Kent@MoreLaw.Com.
Help support the publication of case reports on MoreLaw
Date: 09-11-2020
Case Style:
United States of America v. Brandon Kevin Campbell
Case Number: 1:20-mj-03509-LFL
Judge: Lauren Fleischer Louis
Court: United States District Court for the Southern District of Florida (Miami-Dade County)
Plaintiff's Attorney: United States District Attorney's Office
Defendant's Attorney:

Call 855-853-4800 for help finding a criminal defense lawyer in Miami, Florida for representation on a cyberstalking charge.

Description: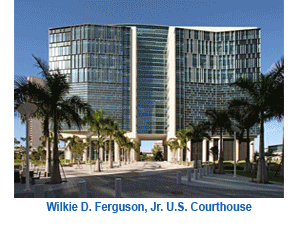 Miami, FL - The United States of America charged Brandon Kevin Campbell, age 28, with cyberstalking.
From April 1, 2019 through mid-May 2020, Campbell allegedly called his former girlfriend's cellular telephone over 850 times, her workplace approximately 2,000 times, and her sister's workplace approximately 1,700 times. At the start of many of these calls, Campbell used a telephone number blocking technique (*67) to try to conceal his identity, according to the complaint.
During telephone calls and in text messages, Campbell allegedly threatened his former girlfriend with statements such as: "Ima kill you you f***ing smut," "I can't wait til you die," "I can't wait to watch your soul leave your body," and "Before your bday on my momma ima watch the blood leave your body, b***h." The criminal complaint alleges that Campbell also harassed and threatened persons close to his former girlfriend, including her sister, her friend, and her co-workers. In one text message to the sister, Campbell allegedly wrote: "I'm at your house I swear to god ima kill [your sister] …Watch she dead." During a telephone conversation with a friend of his former girlfriend, Campbell allegedly threatened the following: "Police cannot save you. Promise. You going to die. Promise." Finally, during phone calls to his former girlfriend's workplace, Campbell threatened to show up, shoot everyone inside, then kill himself, according to the criminal complaint. The FBI learned about the threats and began investigating Campbell after receiving a tip through the FBI's National Threat Operations Center.
Campbell appeared today in Miami federal court before U.S. Magistrate Judge Lauren Fleischer Louis, who detained him pending trial. Campbell faces up to five years in federal prison.
FBI Miami investigated this case. Assistant U.S. Attorney Yara Klukas is prosecuting it.
Outcome: The charges set forth in the Indictment are merely accusations and do not constitute proof of guilt. Every defendant is presumed to be innocent unless and until proven guilty.
Plaintiff's Experts:
Defendant's Experts:
Comments: