Please E-mail suggested additions, comments and/or corrections to Kent@MoreLaw.Com.
Help support the publication of case reports on MoreLaw
Date: 12-22-2017
Case Style:
Joseph Strauch, et al. v. Computer Sciences Corp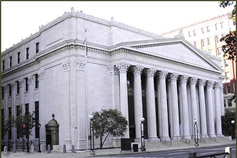 District of Connecticut Federal Courthouse - New Haven, Connecticut
Case Number: 3:14-cv-00956-JBA
Judge: Janet Bond Arterton
Court: United States District Court for the District of Connecticut
Plaintiff's Attorney: Todd Jackson, Genevieve Casey, Lin Y. Chan, Kelly Dermody, Jared Goldman, Dan Hutchinson, Karen Kravetz, Mike Levin-Gesundheit, Mike Litrownik, Darin Ranahan, Jahan Sagafi, David Salazar-Austin, Mike Scimone, Sudarsana Srinivasan, Darnley Stewart, Elizabeth Stork, Shira Tevah
Defendant's Attorney: Brett M. Anders, William Joseph Anthony, Nathan W. Austin, Hallie Diethelm Caldarone, Allison P. Dearington, Alexa M. Farmer, David R. Golder, Michael A. Hood, Alison L. Lynch, Cary G. Palmer, Stephen T. Paterniti, Vincent E. Polsinelli, Matthew A. Porter, Kristi Rich Winters
Description: New Haven, CT - Joseph Strauch and others sued Computer Sciences Corp on a Fair Labor Standards Act violation theory claiming that Computer Sciences willfully and intentionally failed and refused to pay overtime pay. The 1,000 or so plaintiff were granted class action status.

In the midst of the Great Depression, Congress enacted the FLSA to combat the "evils and dangers resulting from wages too low to buy the bare necessities of life and from long hours of work injurious to health." S. Rep. No. 75–884, at 4 (1937). Congress intended that the FLSA "protect 'the rights of those who toil.'" Benhoff v. City of Va. Beach, 180 F.3d 136, 140 (4th Cir. 1999) (quoting Tenn. Coal, Iron & R.R. Co. v. Muscoda Local No. 123, 321 U.S. 590 (1944), superseded in part by statute, 29 U.S.C. § 254(a) (1947)). To that end, the FLSA establishes a federal minimum wage and requires employers to pay "a rate not less than one and one-half times the regular rate" to employees who work more than 40 hours in a single workweek. 29 U.S.C. §§ 206(a), 207(a)(1). Ronald J. Schilling, Jr. v. Schmidt Baking Company, Inc.
Outcome: Plaintiffs' verdict.
Plaintiff's Experts:
Defendant's Experts:
Comments: