Please E-mail suggested additions, comments and/or corrections to Kent@MoreLaw.Com.
Help support the publication of case reports on MoreLaw
Date: 09-11-2018
Case Style:
United States of America v. Cristyne Denise Gilleland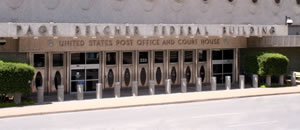 Northern District of Oklahoma Federal Courthouse
Tulsa, Oklahoma
Case Number: 4:18-cr-00173-JED
Judge: Claire V. Egan
Court: United States District Court for the Northern District of Oklahoma (Tulsa County)
Plaintiff's Attorney: Catherine J. Depew
Defendant's Attorney: Eric Stall
Description: Tulsa, OK - Broken Arrow Woman Pleads Guilty to Embezzling $2.75 Million

Cristyne Denise Gilleland, 41, of Broken Arrow, pleaded guilty on September 11, 2018 to wire fraud involving the embezzlement of more than $2.75 million from an Inola business and to signing a false tax return.

Gilleland admitted to embezzling the money from TJT Enterprises, LLC, and its owner, Tommy Thompson, from 2010 to 2017 by wire transfers, writing checks, and paying credit card charges, all for her personal benefit. As an employee of the company who was responsible for accounting and financial management, she used a variety of methods to conceal her embezzlement, including establishing a business that she used to further her scheme.

"Cristyne Gilleland betrayed the trust and confidence placed in her by TJT Enterprises and Tommy Thompson," stated U.S. Attorney Trent Shores. "Her guilty plea today is the first step toward justice for the victims. The United States Attorney's Office will help recover the more than $2.75 million embezzled by Gilleland. Crooks don't get to keep the things they bought with illegally begotten money."

The charges specifically focused on a fraudulent $577,500 wire transfer made by the defendant from TJT Enterprises to a business she created for the purpose of embezzling funds, and on a 2015 tax return in which she failed to report $477,199 in income to the IRS.

As part of the plea agreement, Gilleland consented to the forfeiture of substantial assets, including a yacht, a Grand Lake condominium, financial account proceeds and vehicles. She further agreed to forfeit an additional $100,000. All of the forfeited proceeds will provide restitution for the victims.

U.S. District Judge John E. Dowdell will sentence Gilleland on December 11, 2018 at 10 a.m.; Gilleland could face up to 20 years in prison.

The Federal Bureau of Investigation and the Department of Treasury, Internal Revenue Service—Criminal Investigation Division investigated the case.


Charges:


18:1343-Wire Fraud; 18:981(a)(1)(C) and 28:2461(c)-Wire Fraud Forfeiture
(1)
26:7206(1)-Subscribing to False Tax Return
(2)
Outcome: 09/11/2018 13 MINUTES of Proceedings - held before Judge John E Dowdell: Change of Plea Hearing held on 9/11/2018 , setting/resetting deadline(s)/hearing(s): ( Sentencing set for 12/11/2018 at 10:00 AM before Judge John E Dowdell), guilty plea entered as to Cristyne Denise Gilleland (1) (Court Reporter: Terri Beeler) (lml, Dpty Clk) (Entered: 09/11/2018)
09/11/2018 14 WAIVER of Right to Trial by Jury approved by Judge John E Dowdell by USA, Cristyne Denise Gilleland (1) as to Cristyne Denise Gilleland (1) (lml, Dpty Clk) (Entered: 09/11/2018)
09/11/2018 15 WAIVER of Right to have Thirty Days to Prepare for Trial approved by Judge John E Dowdell by USA, Cristyne Denise Gilleland (1) as to Cristyne Denise Gilleland (1) (lml, Dpty Clk) (Entered: 09/11/2018)
09/11/2018 16 PETITION to Enter Plea of Guilty and ORDER Accepting Plea by Judge John E Dowdell as to Cristyne Denise Gilleland (1) (lml, Dpty Clk) (Entered: 09/11/2018)
09/11/2018 17 PLEA AGREEMENT by USA, Cristyne Denise Gilleland (1) as to Cristyne Denise Gilleland (1) (lml, Dpty Clk) (Entered: 09/11/2018)
09/11/2018 18 SEALED PLEA SUPPLEMENT (lml, Dpty Clk) (Entered: 09/11/2018)
Plaintiff's Experts:
Defendant's Experts:
Comments: