Please E-mail suggested additions, comments and/or corrections to Kent@MoreLaw.Com.
Help support the publication of case reports on MoreLaw
Date: 03-21-2023
Case Style:
Chad Lightfoot v. Gary Gilley, et al.
Case Number: 5:22-CV-1080
Judge: S. Maurice Hicks, Jr.
Court: United States District Court for the Western District of Louisiana (Caddo Parish)
Plaintiff's Attorney: United States Attorney's Office in Shreveport
Defendant's Attorney:
Description: Shreveport, Louisiana Plaintiff representing himself without counsel sued Defendants on prisoner civil rights theories.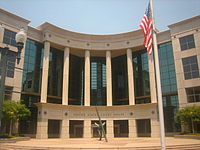 Lightfoot is a prisoner in the Franklin Parish Detention Center. He
filed this suit against several prison officials, alleging (among other things)
that the defendants purposely "lost or misplaced [his] legal materials
and[/]or personal property," and had denied him any deprivation
proceedings.
The event at issue began on the night of April 16, 2021. Lightfoot
alleges that, on that night, a prison officer conducted a search and found
contraband "at bed number #11," which is not assigned to any prisoner, but
is directly above Lightfoot's bed. Because of that incident, Lightfoot was
disciplined. He was escorted away from the bed area and placed in
administrative segregation. Lightfoot alleges that, as he was escorted away
from the bed area, "his property and belongings [were] scattered all about his
bed area" due to the search, and they were "unguarded." He allegesthat his
property included:
• An MP4 Player
• $25.00 in cash
• 250 postal stamps
• Three pairs of Levi's 504 relaxed fit jeans
• New Air Max tennis shoes
• Two books:
• Police Misconduct: Law and Litigation
• 48 Laws of Power
• A set of personal hair clippers and liners
Lightfoot alleges that, after about one week in administrative
segregation, he was transferred directly to a new correctional facility without
being allowed to take or check on his property before leaving. Prison officials
subsequently delivered Lightfoot's property to his new facility, but he alleges
that "a number of expensive items and legal material[s]" were "missing."
Lightfoot alleges that, to recover his missing items, he mailed a
request for an "Administrative Remedy Procedure" to Defendant Warden
Miller. However, he allegesthat his request was "purposely and knowingly"
ignored by the prison staff. Consequently, Lightfoot asserts that he was
denied a deprivation hearing, to which he contends he is entitled "when [his]
property of any kind [was] seized" by jail or prison officials. Among other
relief, Lightfoot seeks an injunction to prevent the defendants "from denying
[him] post deprivation proceedings upon the seizure" of his property.
Outcome: Judgment in favor of Defendants reversed.
Plaintiff's Experts:
Defendant's Experts:
Comments: Editor's Note: This is a very unusual case, Pro Se civil rights plaintiff seldom prevail.